TRAILS FOR BIKES, SCOOTERS AND WALKERS
DESIGNATED TRAILS IN
Klínovci
The surroundings of Klínovec is spiked by 73 km of trails for bikers, scooter riders, and walkers. Bikers might choose between two types of trails with various difficulty – easy trails for effortless cycling or harder trails for mountain bikes.
EFFORTLESS CYCLING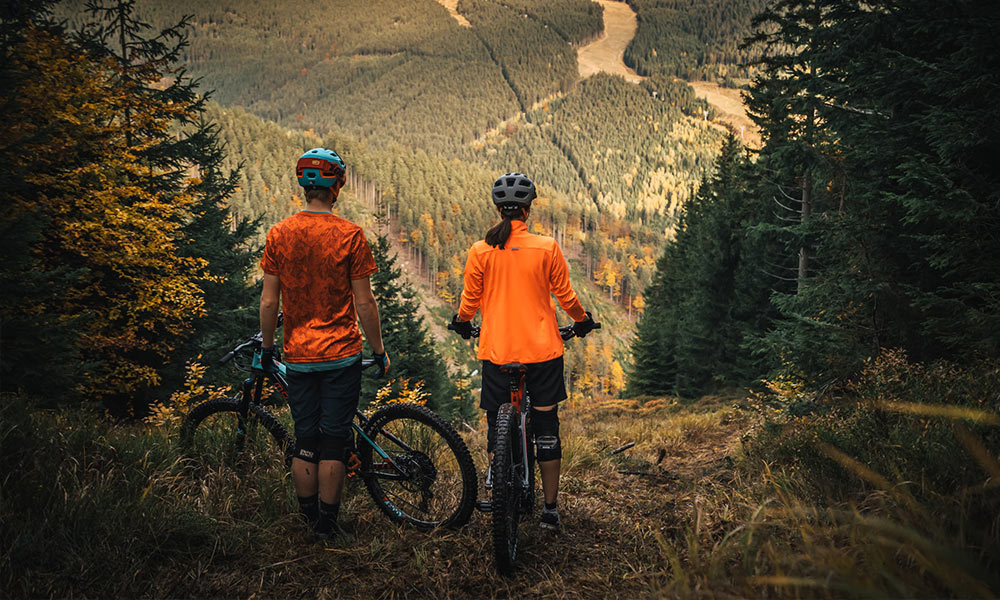 Optimal for beginners or families with children
Cross Country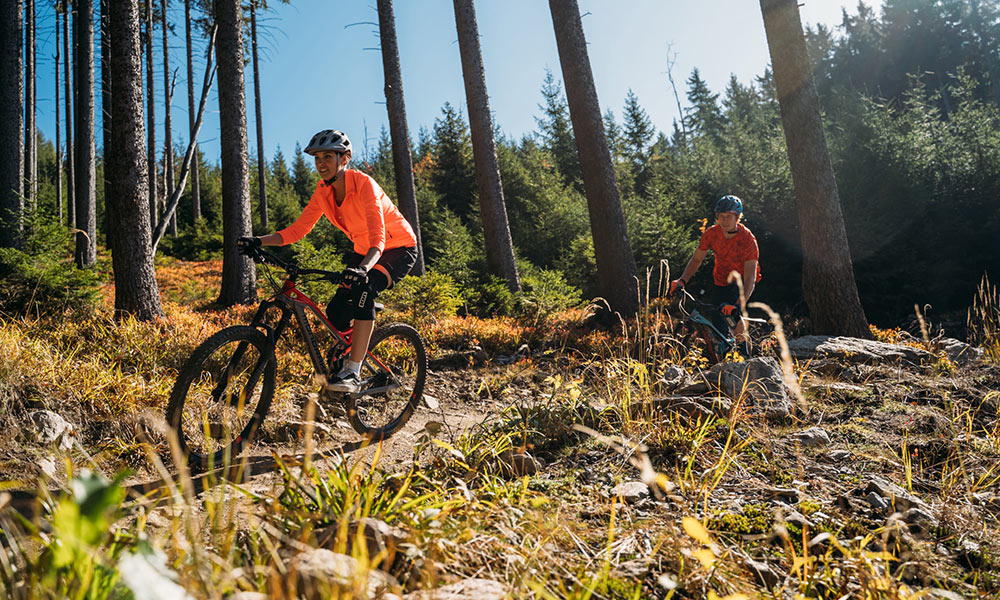 Optimal for experienced riders
DIRT SCOOTERS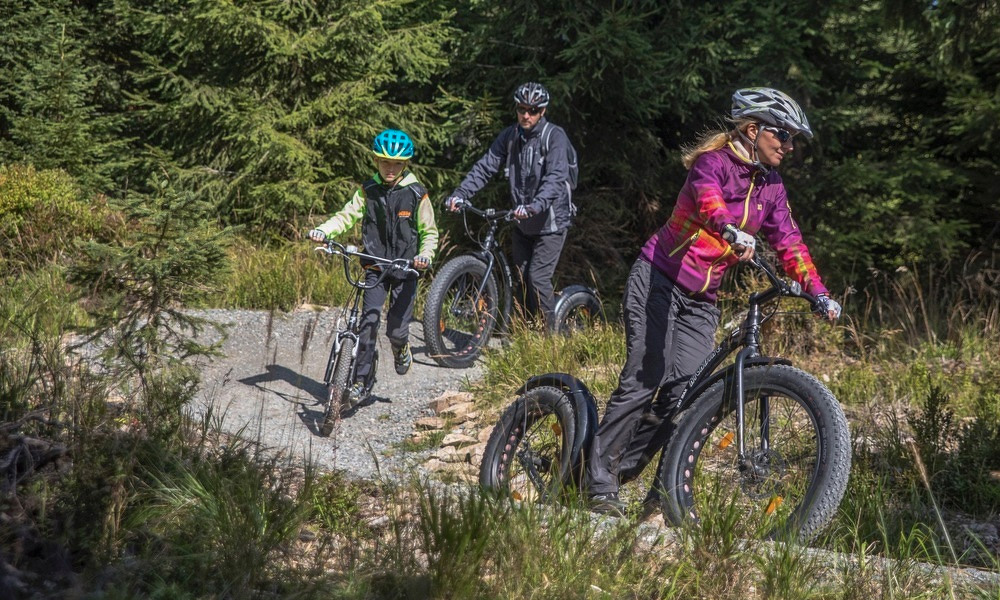 Chilled downhill on fortified trails
HIKING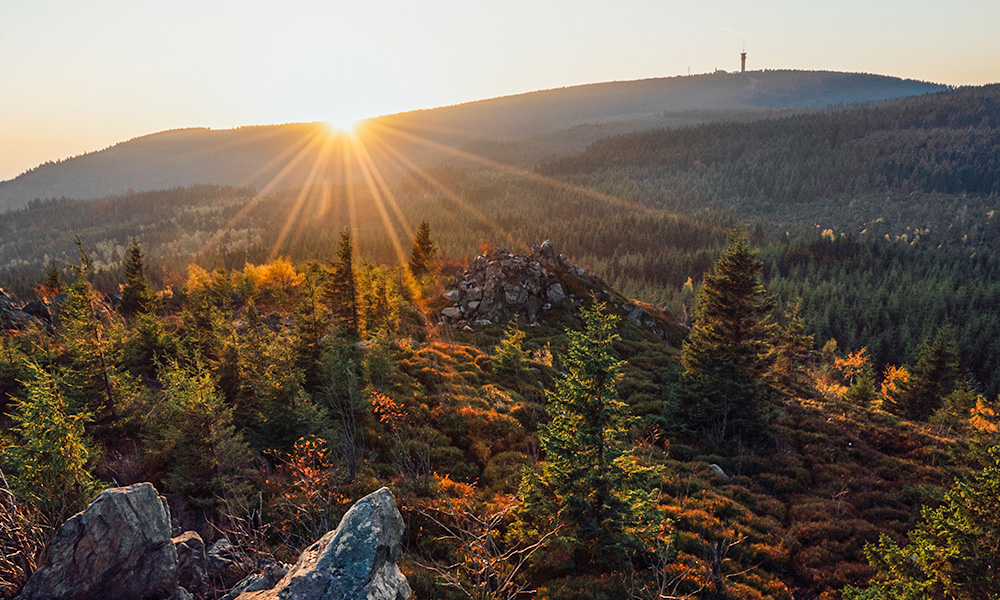 Explore the beauty of the Ore Mountains
EFFORTLESS CYCLING
TRAILS
Effortless cycling trails lead mainly through lightly descending asphalt and gravel paths. These trails are very suitable for families with children. All trails start at the top of the mountain and lead to the chairlift Prima Express.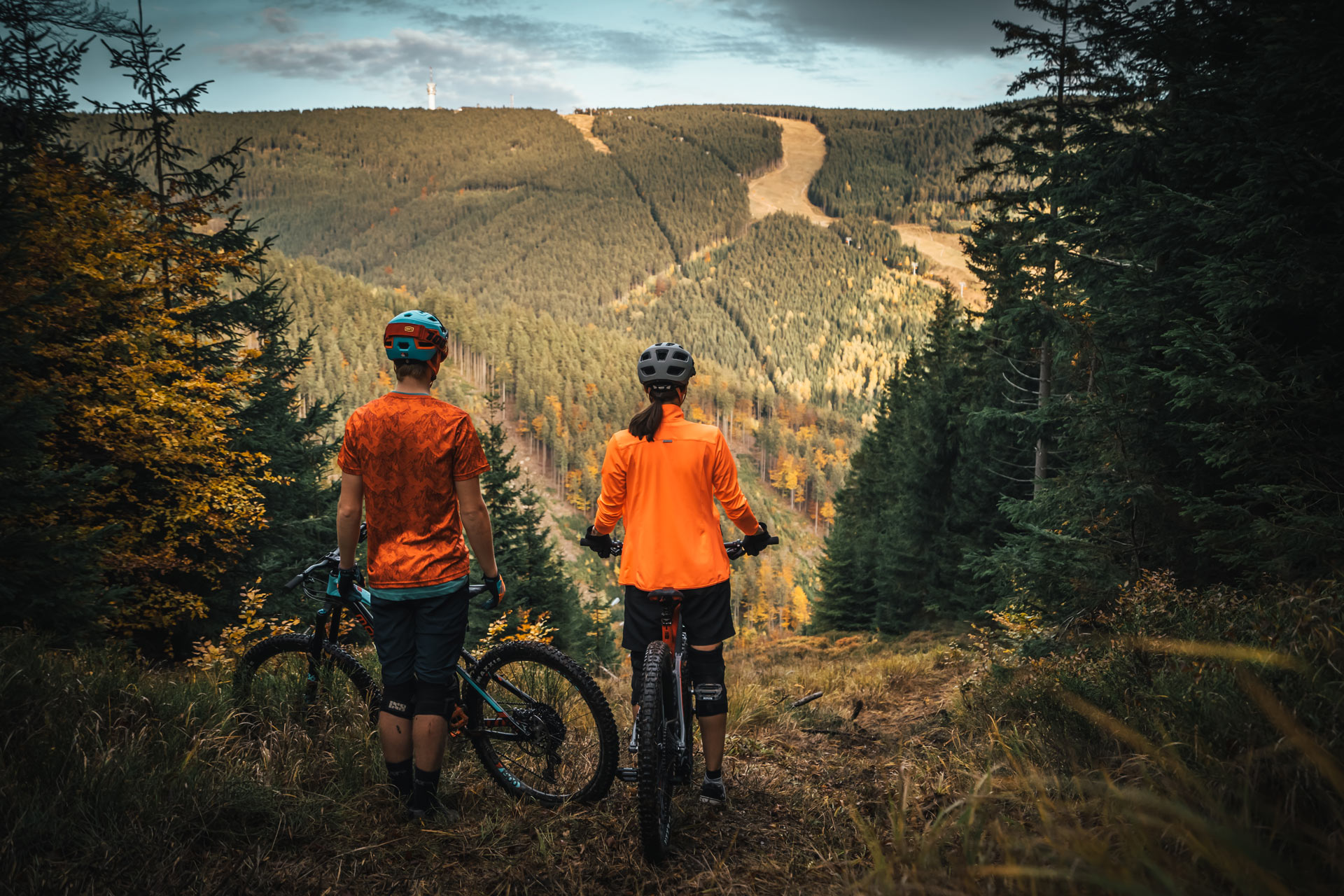 Pašerácká cesta (SMUGGLER´S TRAIL)
Follow the opposite direction of the Smuggler´s trail towards the village Suchá! The trail offers several spectacular views before it turns into the woods above the town Jáchymov.
Meluzína (THE WAILING WIND)
The trail leads to the hill called "The Wailing Wind" – a mysterious hummock scattered with rocks. Many consider it the most stunning hill in the Ore Mountains. Only the brave ones dare to climb the hill to see the mindblowing view from the top. If you are keen to do so, we encourage you to bring a bike lock.
CROSS COUNTRY
CIRCUITS
Cross country circuits lead through designated forest trails that test your stamina and riding skills. Experience natural paths, sharp descends, but also difficult ascends. However, the most challenging ascending section is covered by the chairlift Prima Express. These trails are suitable for physically advanced riders hungry to discover unknown places with amazing views into the landscape.
Loučenský okruh (Loučeň CIRCUIT)
The longest of the designated trails follows a tight path around the historic tringle-shaped frontier stone. Experience magnificent views of Oberwiesenthal and Loučná pod Klínovcem as the path ascends via Háj to Meluzína. You might like to try fishing here or follow the contour line further towards the village Suchá and enjoy spectacular views into the valley of the river Ohře. The chairlift chides behind the last steep hill of the circuit.
Hadí hora (THE SNAKE MOUNTAIN)
Our technically most challenging circuit leads through a narrow path full of roots. Well-trained riders will be rewarded by a view overlooking the plains around the mountain Neklid. The trail ascends through the Strawberry meadows and follows the contour line via the hill Šance to the viewpoint Stráž pod Jáchymovem. The way back leads around the mountain Dub up to the hill with a brook crossing. Riders are rewarded by extraordinary views from the Snake Mountain to the southern slopes of the mountain Klínovec, Černý Vrch, and Neklid.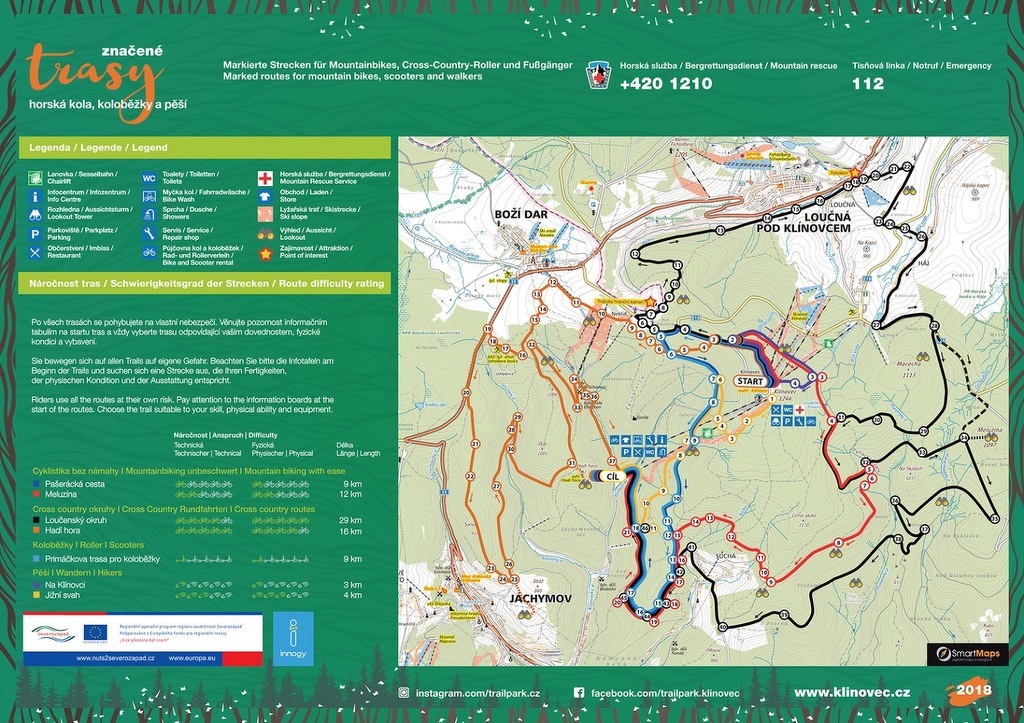 Trail open    Caution on trail     Trail closed     Status unknown
EFFORTLESS CYCLING
| | Name | Technical Difficulty | Physical Difficulty | Length | Status | Comments |
| --- | --- | --- | --- | --- | --- | --- |
| | Pašerácká cesta | | | 9 km | | - |
| | Meluzína | | | 12 km | | - |
CROSS COUNTRY CIRCUITS
| | Name | Technical Difficulty | Physical Difficulty | Length | Status | Comments |
| --- | --- | --- | --- | --- | --- | --- |
| | Loučenský okruh | | | 29 km | | |
| | Hadí hora | | | 16 km | | - |
DIRT SCOOTERS
| | Name | Technical Difficulty | Physical Difficulty | Length | Status | Comments |
| --- | --- | --- | --- | --- | --- | --- |
| | Primáčkova trasa pro koloběžky | | | 9 km | | - |
Hiking
| | Name | Technical Difficulty | Physical Difficulty | Length | Status | Comments |
| --- | --- | --- | --- | --- | --- | --- |
| | Na Klínovci | | | 3 km | | - |
| | Jižní svah | | | 4 km | | - |